Research Databases
Research isn't just strictly for academics (although, we have a database for that!) Whether you're doing research for school, research on buying a car, or researching what book to read next, we've got a database that can help you!
Genealogy:

Access thousands of genealogy records including, birth, death, marriage, immigration, voter, and census records.  Ancestry.com must be accessed from inside the library either on a library computer or a laptop on our wifi.  Ask a staff member for help.
3 databases all for people looking for grants! One for non-profits, one for individuals and one for philanthropy trends.  This database is only accessible from inside the library.  Email Madhu to schedule an appointment to use one of these databases today: mgupta@plnl.org
researchIT CT

researchIT CT offers free online resources as a service of the CT State Library.  Here you will find journal, magazine, and newspaper articles for Connecticut public, K12, and academic libraries and their users.
General Reference Information:
Designed specifically for public libraries, this database provides full text for magazines, reference books and primary source documents. It also includes an extensive image collection containing photos, maps and flags.
Academic Search Premier is a leading multidisciplinary research database. It provides acclaimed full-text journals, magazines and other valuable resources.
Newspapers:
Legal:
 
Providing exclusive online full text for many of the top consumer legal reference books, this valuable resource contains hundreds of publications and thousands of multi-state forms to assist the general public in legal matters of all kinds.
Connecticut History:

Know stories about the people, traditions, innovations, and events that make up the rich history of the Nutmeg State.
Business:
The database features thousands of full-text journals, dissertations, working papers, key business and economics periodicals such as the Economist, country-and industry-focused reports, and downloadable data. Its international coverage gives researchers a complete picture of companies and business trends around the world.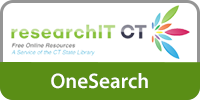 OneSearch is a simple and fast search engine that allows you to search simultaneously for books, articles, and more.
Medical:
PubMed comprises more than 27 million citations for biomedical literature from MEDLINE, life science journals, and online books.
Remember to cite your sources! EVERY well-written paper is followed by a comprehensive bibliography which gives credit to the original sources that helped make ideas possible. Click the link below for an array of sites that will help you cite your sources!